Jack Greedy Limited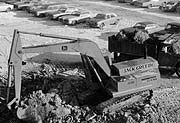 Company founder, Jack Greedy, was born in Hamilton, Ontario in 1929 and moved to Toronto at age fourteen. He left school (Weston Collegiate) at age seventeen to work full time at Canada Cycle Manufacturing.
His job at CCM allowed him to save enough money to buy an old car. He cut the roof off of the car and turned it into a truck. He then purchased an old cement mixer and was into the concrete business. He did mostly small concrete sidewalks and driveways and saved enough money to buy a dump-truck which he used to haul stone from Smythe Park. He started raising houses to put in basements, then, when septic tanks were being replaced by sewer lines, he purchased a backhoe to make the job easier and more cost effective. Now there were trucks and backhoes and business was booming, and way he went!
In 1977 he purchased a small paving company – Park Lans – to complete the operation. One division digs up and the other repairs.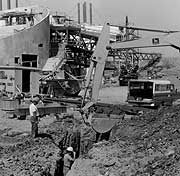 Over the years Jack Greedy Ltd. and Park Lans have done construction projects for Ontario Place, Princess Margaret Hospital, Q.E.W Highway, Queen Street Mental Hospital, and other landmark accounts.
Jack and his wife Doreen had four children: two girls and 2 boys. The boys now run the Jack Greedy Limited business with one grandson now active. The girls live in beautiful British Columbia. There are twelve grandchildren and one great-grandchild.